TESTIMONIALS
Testimonial for GB's MMW  – APRIL 2015
When we arrived back in Australia after years of living overseas, and retrieved our 1972 Leyland Mini Clubman from storage, we decided it had reached the point where it either needed to be divested, or restored so it could be used and enjoyed. It had spent the best part of 10 years either in storage, being transported on interstate removals trucks, or on the back of tow trucks to be repaired. Far more time than it had ever spent on the road with us driving it.
Sentimentality won the day of course, and we decided to research classic mini specialist businesses. We contacted GB's MMW on no more evidence other than they were a local family run business and advertised as classic mini restoration specialists, to see what options we had with it. From the first time Graham came to pick it up on the truck and take it back to the MMW garage for assessment, and our early discussions with Andrew at MMW, we knew we had found the right people.
Discussions with Andrew, Graham and the team were easy. We laid out the history of the mini, and what bits and pieces repairs and partial refurbishments had been done to it over the years (that we knew of anyway), none of which were very successful. The options were clear, their approach was professional and honest, and we decided to take the plunge for a full 'nut & bolt' restoration even though being initially hesitant about spending a sum of money on a car that hadn't been particularly reliable in the past.
In essence, we trusted MMW to complete the full restoration over 12 months with a minimum of input from us, as we were not actually Sydney residents while the restoration was underway. As luck would have it, we had moved to Sydney permanently by the time it was finished, and were able to pick up our fully restored mini in person. MMW assisted us with getting the NSW registration paperwork in order, from an interstate transfer, and we were on the road again.
Since we picked up our first fully restored mini (yes I said first) from MMW and drove it home, back in 2010, we have been so happy with the result and our earlier decision to entrust our car to MMW. We have been driving that first project ever since, and it's unrecognisable as the original mini we owned, it drives and performs so well.
Fast forward to now, and we have completed another full 'nut & bolt' restoration with MMW on an original, 1 prior owner, 1970 Cooper S Mk2, which we also drive around regularly. Again, MMW procured the mini and we followed their professional advice on restoration works based on our preferred selections and discussions over many months. They completed the second project for us from start to finish with a result that we couldn't be happier with.
Both of our current minis return to MMW every 6 months for service and the annual rego renewal. Graham now refers to us as one of their MMW 'fleet' owners, but we wouldn't keep returning if the service received wasn't good.
We are now about to embark on commissioning a third mini project that MMW are assisting us with procuring, and look forward to working with the MMW family again this year on yet another restoration project.
Anyone who has ever driven a mini knows how much fun they are to drive. Our experience with classic minis has been that a fully restored mini when done properly, and professionally, is a level of quality far above driving a mini that has had bits and pieces done to it, and the more original components the better.
It's nice to own and drive classic cars that have been restored properly, that you can not only use as a daily driver, but are popular in the market place and have some significant integral value that will continue to increase in the future as an investment when well maintained.
We would highly recommend to anyone thinking about 'taking the plunge' on a classic mini restoration, purchasing their first (second or third) classic mini, or just seeking some advice, to contact GB's MMW and experience for yourself some 'old school' service industry values of integrity and honesty coupled with a wealth of knowledge on the subject of classic minis.
Rod & Jo
Mini Fleet Owners
Cremorne NSW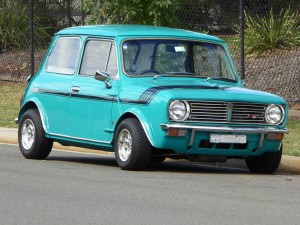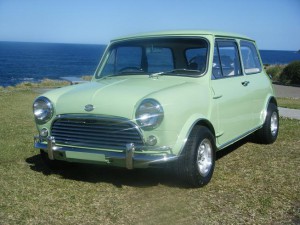 ---
APRIL 2015
It is almost 18 months since I made the fantastic decision to have a nut and bolt restoration completed on my Moke at Mini and Moke World. Wow what a good decision it was. Their passion is infectious and they treat your car better than they would their own. There is a solution to every problem and nothing is too difficult. My car puts a smile on my face every time I drive it and that is thanks to all the professionalism, experience and dedication of Graham, Andrew, Sally and the team. I recommend these guys to anyone.
Scott – 1981 Mini Moke Californian Owner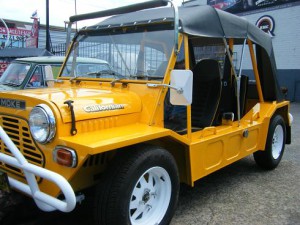 ---
April 2015
We can't fault the service and advice of MMW.  Nothing's ever been a problem and we wouldn't trust our fleet to any other business.  From racing up the coast in the pouring rain to collect an ailing car, to tracking down wanted parts, keeping us updated on repair and rebuild progress, and door to door delivery.  Even following up to check whether an issue has been fixed, or sometimes just for a chat and check on our wellbeing…… or to point out the latest mini related bargain on ebay!  A family run business where we've been made to feel like family.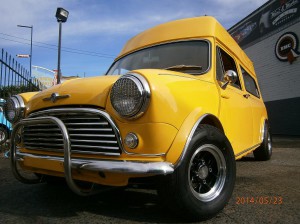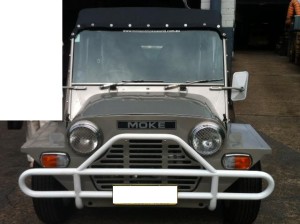 S & S – Central Coast NSW
---